Wellington Lee
OBITUARY – WELLINGTON LEE OAM, OBE, JP
17/9/1925 – 25/12/2022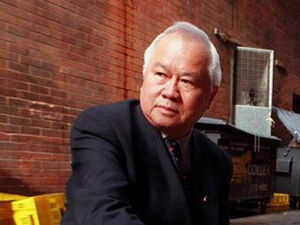 Wellington Lee who died in Melbourne was a fourth-generation Australian of mostly Asian descent. His great-grandfather, Lee Hang Gong, arrived in Creswick in 1854 and became a storekeeper. He married Englishwoman Sarah Bowman in 1869 – she was also a storekeeper – and they had ten children. One, Lee Hang Gong, attended the Creswick Grammar School. When the family left to live in Darwin in the later 70s, they were given a civic farewell.
Wellington's early years were in Darwin. He attended boarding school in Queensland where his prowess on the rugby field was notable. Later, he moved to Melbourne and qualified as a pharmacist at the Victorian College of Pharmacy. During World War II he served in the RAAF as a pilot and remained on the Active Reserve of Officers until 1983. He was proud of being an ex-serviceman and was on the State Executive of the RSL.
Wellington was first elected to the Melbourne City Council in 1977 and was one of the longest serving councillors. He served a term as Deputy Lord Mayor. He became a Justice of the Peace, was known as a champion of shopkeepers and the small but growing number of city residents. He owned a pharmacy in Little Bourke Street and was involved with the many groups that represented the city's growing Chinese community.
Lee made his first visit to Creswick on 7 November, 1998 to unveil the cairn constructed by the Creswick & District Historical Society to commemorate the contribution of the thousands of Chinese who were in the district between 1850 and 1900. The Cairn is close to the gate of Calembeen Park in Drummond Street.
Wellington Lee said on this visit that he was a proud Australian. He faced up to racism at many stages of his life but did not let it define him. He said 'I know who I am – a very proud Australian with a very rich heritage'.
The present Deputy Lord Mayor of Melbourne referred to him as a 'Trailblazer for Multi-cultural Melbourne'. He was awarded an OBE in 1982 and an OAM in 1984 – both for community service – a proud family tradition which had its Australian beginnings in Creswick.
References:
The Age, 9/1/2023
Creswick & District Historical Society Newsletter, December 1998
Learn More About our Society
Family History
Creswick & District
Migration
Honour Roll
Membership

Contact Creswick and District Historical Society today. We would love to hear from you!