Honour Roll Nominations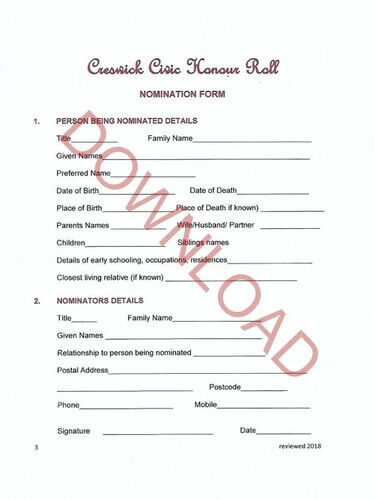 In 2009 the Creswick and District Historical Society formed a small committee with members of the society and independent members, to honour deceased citizens who had not been acknowledged for their contribution to the community.
Those who have someone in mind to nominate can obtain Nomination Forms from the Creswick Visitor Information Centre or by downloading the link provided.

Nomination Form Instructions
Nominations must be made by September 30th in each year, and include all relevant evidence and documentation
The Committee will assess Nominations, by the following March and decide on the Award recipients, for announcement on during Heritage Week in May. Up to four (4) recipients may be selected in any one year.
You only need to complete the form and give as much information about the accomplishments and service of the Nominee as possible.
You don't need to have known the Nominee but you need to be certain of their history and plaque worthiness, and the Committee can do further research if required.
Who can be nominated
Nominees must have lived, and/or worked for a considerable length of time, in Creswick and/or the immediate surrounding areas
They must have contributed to the culture, development, social fabric or welfare of Creswick in an extraordinary or significant manner.
Awards will be made honouring deceased persons.
Requirements for Preparing a Nomination
A fully completed Nomination Form (see attached)
A statement outlining the Nominee's eligibility.
A fully completed nomination form, including the Nominators eligibility
A description of the Nominee's relevant life experience, highlighting their achievements, and taking into consideration the selection criteria (as listed below).
Verification details and copied documents should be included, and referenced where necessary
A short (300 to 500 words) profile of the Nominee, including quotations if desired. You can also add testimonials from others to a limit of two (2) pages.
Please provide photocopies of any relevant documents to support the nomination
Assessment
Each Nominee will be assessed according to the following:
Residence in Creswick
Impact on the culture, development, social fabric or welfare of Creswick, including documented voluntary involvement and contribution.
Contribution of unique or innovative ideas or initiatives to Creswick.
Showing leadership, skills or knowledge or creating long-term sustainable change.
Degree of difficulties overcome, in developing or contributing to community service
Other criteria may also be considered if significant.
Guidelines for Nominators
Tell the inspirational story of the Nominee's achievements and the significance of their contribution - why they should be recognised on the Creswick Civic Honour Roll.
Include relevant names and dates of events. Facts MUST be verifiable.
Write the story in as readable and interesting way as possible
Include what the Nominee would have considered their most important achievement, what opportunities their work may have opened up for others and what personal characteristics helped them to accomplish the things they did.
Please provide photocopies of any relevant documents to support the Nomination.
Include photographs if possible. Photos may be used in publicity but will be returned on request.
Lodging your Nomination
Attach all supporting information and photographs (if available) to your Nomination Form and Mail to:
Creswick Civic Honour Roll
The Creswick and District Historical Society, Inc
P O Box 317 Creswick 3363
Learn More About our Society
Family History
Creswick & District
Migration
Honour Roll
Membership

Contact Creswick and District Historical Society today. We would love to hear from you!