About Us
The Creswick and District Historical Society is a non profit organisation for all with an interest in the history of Creswick and district.
The Indigenous tribe of Dja Dja Warrung were the original inhabitants of this district. The Dja Dja Wurrung were bound to their land by their spiritual belief system deriving from the Dreaming, when mythic beings had created the world, the people and their culture. They were part of established trade networks which allowed goods and information to flow over substantial distances.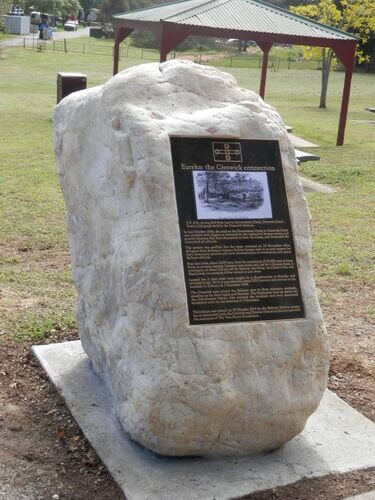 We're an enthusiastic and active group from a variety of backgrounds, all passionate about the history of this district, and always keen to hear from others interested in contributing to the work of researching, recording, restoring, informing, celebrating, cherishing and promoting the vivid and exciting history of this region,
The Society has achieved much since its inception over 40 years ago, and continues to pursue an ambitious program. Recent projects include:
Establishment of an Honour Roll of individuals who made significant contributions to their community
Inception of an annual Honour Roll Dinner held in the Creswick Town Hall
Publication of Portraits of Creswick, and by David Henderson: Cabbage Tree, The Henderson Map; and Let's Stroll and See, a walking booklet of the town
Creation of a DVD about Lincoln Gully - a puddling site
Contributing to creation and installation of the Eureka Marker in Calembeen Park
Digitising the records of all Creswick's churches
Recovery and placement of grinding stone on original site of Laby's Flour Mill, Cushing Avenue.
Providing guided bus tours to historic places of interest around town
Placing a memorial marker near the site of WWII Prime Minister, John Curtin's birth home
Indexing and identifying all original Crown purchasers of land in the Shire and Borough
We enjoy collegiate relationships with Hepburn Shire and numerous local groups and were especially delighted with the success of our collaborative contribution to the town's 100th Commemoration of ANZAC Day event in 2015.
The Society is a member of the Central Highlands Historical Association, networks with many local historical societies, contributes to the annual Family History Week, maintains a small library and undertakes research for a modest fee.
The Creswick and District Historical Society welcomes new members, and especially newcomers to the district keen to know more about this picturesque,
historic 'village of the old goldfields' or to contribute their expertise.
We meet monthly at 2 pm on the 4th Thursday in the Seniors' Club Rooms, Water Street. Please call us with all enquiries
Learn More About our Society
Family History
Creswick & District
Migration
Honour Roll
Membership

Contact Creswick and District Historical Society today. We would love to hear from you!