Pioneer Index
Were your Ancestors in the Creswick area in the 1850s?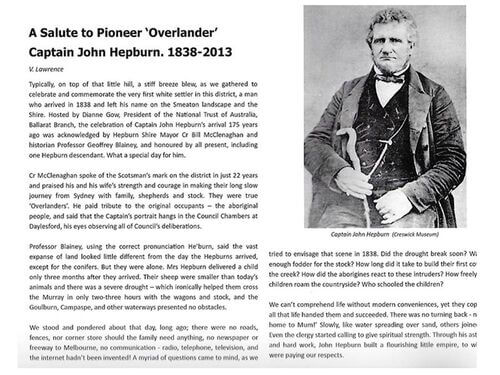 A Salute to Pioneer 'Overlander' Captain John Hepburn. 1838-2013
v. towrtnet
Typically, on top of that little hill, a stiff breeze blew, as we gathered to celebrate and commemorate the very first white settler in this district, a man who arrived in 1838 and left his name on the Smeaton landscape and the Shire.
Hosted by Dianne Gow, President of the National Trust of Australia, Ballarat Branch, the celebration of Captain John Hepburn's arrival 175 years ago was acknowledged by Hepburn Shire Mayor Cr Bill McClenaghan and historian Professor Geoffrey Blainey, and honoured by all present, including one Hepburn descendant.
What a special day for him.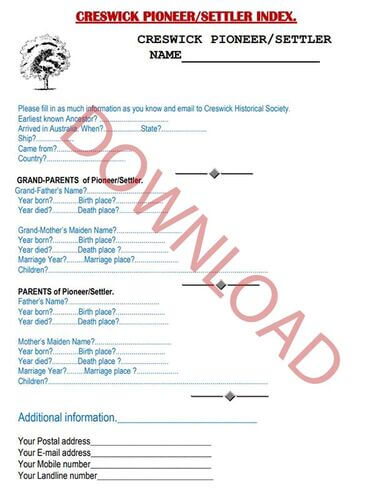 In the period 1854 -1888 there were 3427 Births registered in Creswick. In 1855, shortly after Creswick was gazetted, there were 293 births. With these figures in mind a Pioneer index is going to be quite a substantial number of Families.
The Creswick and District Historical Society is endeavouring to create a pioneer index for Families who were resident here in the 1850s.
Through advertising in newspapers we have so far managed to attract 70 responses, mainly from outside the Shire. We are now looking for input from Creswick residents.
We have set up a contact book in the information Centre; alternatively you can contact us with your Family Name.
If you know of friends who no longer live in the shire, who have connections to Creswick we would welcome their input also.
The pioneer index will only be as good as the information provided by the families.
Learn More About our Society
Family History
Creswick & District
Migration
Honour Roll
Membership

Contact Creswick and District Historical Society today. We would love to hear from you!