WHITFIELD, Miss Marie Christina B.E.M.
1916 - 2007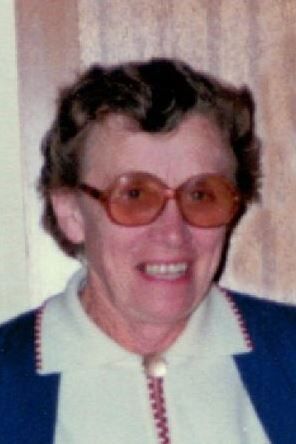 Marie Christina Whitfield was born in Creswick on March 21st 1916, the only child of Carolyn Jessie (nee Paine) and Francis Cranmore Whitfield. Marie never knew her father as he died in France just after her birth.
Marie was educated at St Augustine's School in Creswick then at 'Star of the Sea' in Gardenvale and 'Sacred Heart' in Ballarat where she completed a Commercial Course.
After ten years employment at Patterson-Powell (now Myers) then qualifying in Hospital Administration at the Mayfield Centre in St. Kilda, Marie was appointed the Creswick District Hospital's Secretary and Collector.The title of Collector was discontinued in 1950 and the position became secretary from 1951, a position she held for thirty-two years and 8 months. In 1978 she recognised 'the threshold of a new era' as 'a good time to procure the services of a younger manager'. It was with regret that she gave notice of her intention to retire, as she believed she had enjoyed a great professional career.
Marie served on the Creswick Hospital Ladies Auxiliary as Treasurer from 1954 until November 2004 – 50 years! And was a driving force during those years as it was then that they held sweeps on the Caulfield and Melbourne cup days, the Annual Mother's day appeal, Garden Parties conducted in the hospital grounds, as well as the Miss Creswick Carnival on Australia day, which was also associated with a concert by the Victorian Symphony Orchestra. In 1994 Marie was acknowledged for her 40 years of active involvement in the Auxiliary. This auxiliary has always been a big fundraiser providing comforts and equipment for the Creswick District Hospital and its patients.
At John Curtin Memorial Hostel, now John Curtin Aged Care, Marie was appointed one of 3 trustees when the John Curtin Memorial Hostel Board was established and then served as a board member until 1988 when she retired.
She was a foundation Life Governor and also a room sponsor acknowledging financial sponsorship when she contributed substantial amounts in 1986 and 1987.
In the book celebrating the 1st Creswick Girl Guides, "Creswick Girl Guides – still marching on" by May Townsend. Marie is recorded as re-registering the guide company in 1946 after WW2. In May's book, Marie is attributed to being the Captain and Brown Owl on 9 Sept 1947. She was the captain for 10 years. One of the former guides spoke of the great influence Marie had on her life.
A dedicated and lifelong member of the St Augustine's Catholic Church Congregation, Marie contributed a great amount of time as a parishioner and maintaining the financial records. Some of her extra duties she devoted time to were with Doreen Coghlan, a congregation member, to ensure the flower arrangements in the church were always a pleasure to see and enjoy. Marie always managed to deliver the Sunday roast to Monsignor McInerney which had been prepared by mother Caroline and Aunty "Nance" Morrish.
A most significant award was made on June 12th 1976 when Marie was awarded a Civil British Empire Medal, for her contribution to the Creswick Community.
In 1969 the first meeting of the Creswick Elderly Citizens was held at the RSL Hall. In 1970 she was recorded as being the treasurer of the Creswick Elderly Citizens Welfare committee, which raised funds for the construction of the present building. She was one of the prime movers in raising the money. Having also audited the books for some years, she was awarded a Senior Citizens - Life Membership for her services.
In 1946 Marie is recorded as being the treasurer of the Creswick Golf Associates.
Once retired Marie enjoyed lawn bowls and one year was one of the team of Creswick's Division 5 Pennant winners.
She was a member of Creswick Red Cross for many years.
In 1985 Marie made her first overseas trip and travelled to Europe and England and to New Zealand.
She was quite at home with Computer Software and used programs to prepare flyers, and posters for anyone who may need them, and continued to up-grade her computer skills with courses at the Creswick Adult Learning Centre.
When acknowledged as Citizen of the Month by CDN, in April 2000, Marie was described as such – "Although she is 'too short to see over heads at the theatre or over the seats in an aeroplane', size is no deterrent to a full and active life which, except for periods at boarding school, has been spent in Creswick."
Caroline Jessie had died on Oct 14th 1982 at the age of 93 and Annie (Nance), her aunt, died on June 8th 1984 at the age of 87. Marie died on Jan 24th 2007 at the age of 90.
Creswick appreciated Marie's on-going generosity and hard work. She was a wonderful example of a person living and contributing in the community all her life.
Learn More About our Society
Family History
Creswick & District
Migration
Honour Roll
Membership

Contact Creswick and District Historical Society today. We would love to hear from you!