SCHREENAN, Mr Brian William
1933 - 2016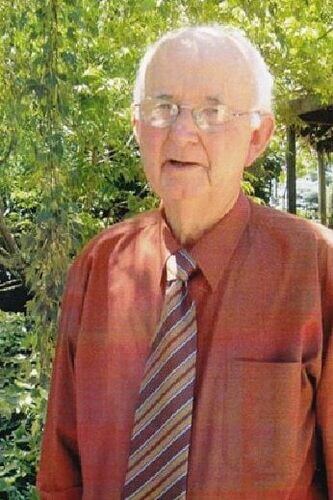 Brian William Schreenan was born to Edward and Mary Roselyn Schreenan on the 9th June, 1933 in Ballarat. The family had a farm at Sebastapol and later moved to Ararat with Brian and his siblings Edward, Leo and Barbara.
Brian's secondary education was at St Patrick's College in Ballarat followed by the Ballarat School of Mines where he completed a Civil Engineering Degree. His early career took him all over the Western District of Victoria before settling in Creswick in 1967 with his wife Florence (Teen), who had been a telephonist in Ballarat, and children Barbara, Lynne, David. His son Tim was deceased in a car accident aged 19.
Brian was appointed Shire Engineer of the Creswick Shire Council in June, 1967, at a time when Creswick and district were experiencing a period of enormous growth. At this time the Council consisted of a Shire Secretary and Shire Engineer, three typists and outdoor staff. Councillors represented four Ridings and were on multiple Community committees. An assistant engineer was employed when the work load became intolerable.
The Shire Engineer was responsible for all aspects of town planning. Building and Planning permits, roads, bridges, kerb and channelling, drainage, water storage and delivery in the Shire. It demonstrates his efficiency that planning permits were often read, checked and approved on the same day.
After much community consultation and planning, Brian initiated The Interim Development Order of the Shire of Creswick Planning Scheme. The new Shire Office was built and the Senior Citizens rooms were constructed.
Mt Prospect Tennis Complex from fourteen original grass courts to twenty-nine courts (sixteen grass and thirteen asphalt courts). Council equipment and volunteers achieved this under his guidance.
Cosgrave's Dam was built after ten years of data collection and planning. It was opened in 1979.
Creswick Sewerage System was implemented.
Road and bridge construction and maintenance was continuous. Brian believed that a regular upgrade was better and cheaper than waiting until the road was impassable. He tried to replace a bridge each year, and achieved eight replacements in twelve years. His family report that on outings he would drive at 5kph hanging out of the driver's door, poking a screwdriver into the primer, checking its readiness for tomorrow's pour and hoping no rain arrived to delay works.
He was especially proud of the pedestrian bridge over Creswick Creek. He designed this bridge using laminated timber which was newly being used at the time. When the bridge was built and transported to Creswick, it lowered onto the concrete footings without a hitch, and his design has been used throughout Australia.
These accomplishments, while not uncommon for Shires of the day established Brian's reputation in the town as a can-do worker who did not procrastinate over proposals but who looked at the community needs and implemented solutions. His willingness to listen to people and often to accommodate their views, was legendary.
A further instance of his community spirit was in his work for the Creswick Bushfire Committee. In 1969, the worst fire in living memory occurred, starting south of Mt Cameron and raging through Glendower, Campbelltown, Kooroocheang and Werona. A total of 200,000 acres were burnt, along with thousands of sheep, cattle and other stock. Brian's role was to organise Shire equipment and men to help bury the dead animals. He and his men worked around the clock and Brian did not get home for three days while this work continued.
The Creswick Shire co-ordinated the Bushfire Relief Committee and organised feed and agistment for surviving stock, work acknowledged by Cr Cosgrave who said, they "worked long hours, beyond the call of duty". It was also said that Brian would not ask his men to do anything he was not prepared to do himself. Long afterwards Brian and the Council continued to assist in the recovery from this calamity.
In 1968, during the drought, when the Ballarat tennis courts were not able to be used and they were unable to host the annual Country Week competition, Mt Prospect Tennis Association, community members, the Creswick Football Club, Councillors, farmers and Brian, formulated a plan. In eight weeks Hammon Park, the local football and cricket ground was transformed into tennis courts, using Council and farmers' equipment to pump water from St Georges Dam into the creek and then onto the oval to irrigate the courts. Tom Evans, MP, when welcoming the players said "We could use this effort and enterprise in National Development; this business of get in and do it yourself."
When the John Curtin Aged Care development was being prepared, Brian, Bernie Rees (Shire Secretary) and the outdoor staff worked voluntarily at weekends using Council machinery on the groundworks, roadworks and parking areas, prior to the slab being poured. Brian, the Shire Secretary and the Council men received life-governorships of the John Curtin in acknowledgement of their work.
Brian and Teen left Creswick for Torquay when Brian retired in 1988. He played a large part in the planning and implementation of the mosaic sundial and Lions Retirement Village at Torquay.
He and Teen returned in 2000, taking on volunteer work for many organisations; He was a trusted advisor to Fr McInerney with many activities for parishioners and supervising the additions to St Augustine's School; He was a member of the Creswick RSL, the Lions Club and Clunes Football Club Tribunal; He was President of the Creswick Golf Club from 1968 for many years and had direct input into construction of a new Clubhouse.
Brian Schreenan's character was reflected in his tireless work for his Shire and the community of Creswick. He was fair, honest and a respected boss of workers. He was interested in sports and would get out into the community, and listened to what they said. He negotiated with groups and supported grants for projects, assessed their viability and gave voluntary assistance such as offering labour and machinery. It was obvious that his personality and professional work ethic engendered a culture of cooperation and understanding. He was always willing to listen, offer advice and follow projects to completion.
The former Shire Secretary, Bernie Rees, said of Brian, "He loved his job, and it was a Shire to be proud of. It was the only Shire in the State that remained solvent."
Brian Shreenan passed away on 3rd January, 2016.
Learn More About our Society
Family History
Creswick & District
Migration
Honour Roll
Membership

Contact Creswick and District Historical Society today. We would love to hear from you!