PEACOCK, Sir Alexander, KCMG, MP
1861 - 1933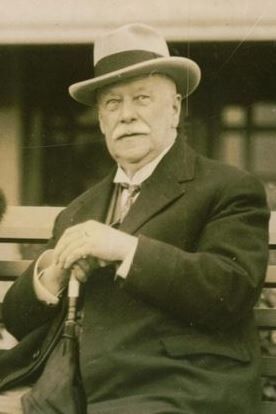 Alexander Peacock was born and educated in Creswick. The eldest of five children of James and Mary Peacock he attended the Grammar School for ten years as both pupil and trainee-teacher. He featured prominently in the school Honours list each year and at the age of thirteen, passed the Civil Service examination.
While teaching in Creswick, Alex Peacock was a member of the Creswick Literary and Debating Society and was a founder of the Creswick Branch of the Australian Natives Association. He served as Vice President of the ANA in 1884, Secretary and a Director for twenty years, branch delegate for fifty years and three times Chief President. An active Freemason at the Creswick Havilah Lodge, he became Grand Master of the United Grand Lodge of Victoria and played a major role in uniting the fragmented lodge of the time.
In 1882 Peacock was employed with W P Jones, a Creswick Legal Mining Manager, during which time the Australasian Mining Disaster occurred. Much later, when Speaker of the Legislative Assembly he served on the Board of Trustees which administered the Victorian Mining Accident Relief Fund. This fund became notorious when £200,000, raised by donation, dwindled away with very little given to the next of kin of the lost miners.
A. J. Peacock himself later became a Legal Mining Manager and at one time represented more than fifty mines in Creswick and Ballarat. He was also a member of the Royal Commission on gold mining and President of the Legal Manager's Institute of Victoria.
When Alex Peacock nominated for the Legislative Assembly in 1889, he described himself as both Liberal and Protectionist, with a very broad platform. At 28 he won the seat of Allendale and Clunes and soon became a Minister in the Munro Government and in February 1892 he was appointed Minister of Public Instruction in the Shiels Ministry.
In 1896 he gained legendary fame when he introduced the Factories and Shops Act, first begun by others, and designed to prevent "sweat shops", long hours and poor working conditions. This also brought into being the Victorian wages board system with an independent chairman to determine minimum wage rates. This achievement made Peacock very popular and labelled him "a humane politician".
Learn More About our Society
Family History
Creswick & District
Migration
Honour Roll
Membership

Contact Creswick and District Historical Society today. We would love to hear from you!