PEACOCK, Lady Millie Gertrude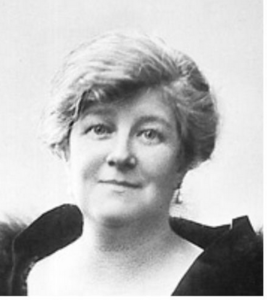 03-08-1870 -07-02-1948
Millie Gertrude Holden was born in Framlingham on 3rd August 1870. Her parents, John Bryson Holden and Marianne Holden (nee Arnold) were Irish immigrants. Her father was an auctioneer, stock and station owner. Millie was their second daughter. Her mother died when she was 5 months old, on 13th January 1971. Her father married Marianne's sister, Jane Ellen Arnold. Their family home called "Loongarna", no longer exists. Millie was educated at Port Fairy and the Methodist Ladies College, Melbourne.
Alexander Peacock and Millie first met in 1899 when the Australian Natives Association conference was held at Port Fairy and her family hosted members from other towns. They were engaged in May 1900 and married at St. Andrews Presbyterian Church, Port Fairy on January 1901.
After their honeymoon at Bright, they returned to Creswick by train. At the station they were met by a crowd of well-wishers and the Creswick Jubilee Band. The station was decorated in green and red paper lanterns. The band escorted them to their home in Cambridge St, "Glemsford". They lived there for the rest of their lives.
Weeks after their marriage Alexander became Premier of Victoria. He was Premier three times during his long political career. He was knighted the following year in 1902.
The year of their marriage, 1901, was the year of Federation and the newly married couple were very much involved as Melbourne was the host city for the opening of the new Federal Parliament in the Exhibition Building in Melbourne. The Duke and Duchess of York (later to become King George V and Queen Mary) arrived for a Royal Visit on 6th May 1901. Millie accompanied her husband to many of the functions.
In Creswick she undertook duties on her husbands' behalf in the electorate (Allendale) when he was in Melbourne. The Sydney newspaper, the Mercury, commented: "Indeed, so familiar did she make herself with the people of her part of the country, their needs and problems, that Sir Alexander was often heard to say that she knew more of the electorate than he did and she was popularly known as the "deputy member".
Her charity work involved her with many good causes, not only in the Creswick district but Ballarat and the State.
A Branch of the British Red Cross was founded in Australia in August 1914, 9 days after the outbreak of World War I. Lady Millie was a member of the Provisional Committee of the Victorian Division of the Australian Branch of the British Red Cross Society (1914 - 1915).
The Creswick Branch of the Red Cross Society was founded in April 1915. Lady Millie was elected inaugural President. She served as President until her death in 1948. The Society worked hard to provide comforts to all those serving overseas. With all the members, she knitted socks and made up parcels of goods to ease the hardships of soldiers and nurses. She would answer letters sent from those serving. In peacetime, as now, the Red Cross provided support in bush fire and other emergencies. Besides being involved with the Creswick Red Cross, she would attend other groups in the Creswick Shire and other areas like Talbot, Clunes and Ballarat.
According to the minute books of the Creswick Ladies Benevolent Society, Lady Millie was President from at least 1932 to 1942. The Association met monthly and assessed the needs of people who applied for assistance and quietly distributed goods to needy people throughout the district. This included baby clothes, sheets, blankets, groceries, firewood, books and other essentials. Lady Millie remained President and attended most of the meetings even when she was a Member of Parliament.
Lady Millie also was involved in the Children's Welfare Association and the Creswick Auxiliary of the Royal Victorian Institute for the Blind.
On the sudden death of Sir Alexander Peacock on 7th of October 1933, at the State Funeral held in Creswick, Robert Menzies, who at the time was a member of the Victorian Parliament, with others, encouraged Lady Millie to stand for her husband's seat. She stood reluctantly. As she was in mourning during the campaign, she made no speeches or public appearances.
She was elected to the seat of Allendale at a by-election on 11th November 1933. She defeated the Labour candidate by a record margin, over 1500 votes.
As Dianne Haddon, MLC for Ballarat Province, in her speech to the Creswick Red Cross Unit celebrating its' 90th birthday on 31st May, 2005, said "Lady Millie had lost her husband of 32 years on 7th October, buried him on the 10th at a State Funeral and then made political history as the first woman elected to State Parliament on 11th November. It must have been a tumultuous time for a lady in mourning."
Lady Millie was the first woman to be elected to the Victorian Parliament and only the third woman elected to a Parliament in Australia. When she took her seat the gallery was crowded with women.
Her only speech to Parliament was on the 5th September, 1934 moving support for the Factories and Shops Bill, which had been of particular interest to Sir Alexander. She emphasised the plight of female outworkers, praising her husband's role in
establishing the Wages Board system to fix fair wages and conditions for Victorian workers, concluding "I feel very proud that I have been able to stand up in this House, which is truly representative of the people and give my support to this legislation which I feel is not only due and necessary, but reflects the highest instincts of humanity".
She served her Parliamentary term and did not re-nominate at the following election in February 1935 and is recorded as saying "Parliament is not a place for women". The book "Women in the City", published by the Victorian Women's Trust, said "During her term, she made fundamental contributions to the community as a champion for women and worker's rights ……and she made fundamental contributions to the Melbourne community by bridging the gap between formal and practical access to public offices for women in Victoria and Australia".
Lady Millie and Sir Alexander had no children but she enjoyed her nieces and nephews and was close to the Holden side of the family.
They were regular worshippers at St Johns Anglican Church in Creswick. Both were strongly motivated by their Christian faith.
The obituary in the Creswick Advertiser of 13th February 1948 stated "for nearly half a century, she has been part of the life of Creswick, intimately knowing all its' people, mixing with them in happiness and in sorrow.
Lady Millie Peacock was held in high regard, respected and loved by the community of Creswick and district, and Victorians generally. From her arrival as a young bride in 1901 until her death in 1948 she worked tirelessly for all.
In 2002 Lady Millie Peacock was added to the Victorian Honour Roll of Women. There are plans for one of the tunnels being built in Melbourne to be named after her.
Learn More About our Society
Family History
Creswick & District
Migration
Honour Roll
Membership

Contact Creswick and District Historical Society today. We would love to hear from you!