NORTHCOTT, Mrs W.P. (Leah)
1852 - 1928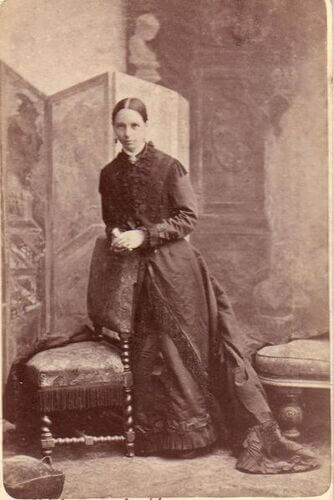 Mrs W. P. (Leah) Northcott (nee Whitfield) was born in Greenends, Cumberland, England in 1852 and came to Australia at the age of six. She lived in Creswick for seventy years
In 1875, she met William Palmer Northcott and was married, a marriage which lasted for over fifty years and produced five sons and daughters. She was Mayoress on seven occasions, and it was in this capacity that she undertook to create a lasting monument for the Diamond Jubilee of Queen Victoria in 1897.
Gathering together the wives of other Councillors and several ladies of the town, Mrs Northcott set about planning a Bandstand to sit in Market Square. The Creswick Council, while supportive in principle, stipulated that the ladies' Committee must raise the money for the construction themselves and in the end contributed only £10 to the project.
Leah Northcott and her ladies collected funds from far and wide amongst the community, who fully supported the venture, and eventually the Bandstand was built. Mrs Northcott laid the foundation stone on June 21st, 1897 amidst much celebration to mark the Jubilee for the 60 year reign of Queen Victoria, however Mayor Northcott took it upon himself to "officially open" the Bandstand on August 14th, with the Creswick Band playing a program of popular tunes.
Leah Northcott also served the town in many other capacities - The Red Cross, the Ladies Benevolent Society, Methodist Church, Creswick Hospital and other organisations.
The Creswick Bandstand, which has been refurbished several times, still serves its original purpose of hosting Band concerts and provides a place of shelter in inclement weather and a handy spot to eat a sandwich. The choice of a Bandstand also saved Creswick from the Council's proposal of siting stockyards in Raglan Street, an odorous prospect.
Leah Northcott passed away in 1928 at the age of 75 years and was mourned by her family and the community. The Jubilee Bandstand, a memorial to a Queen, is also a fitting memorial to one of Creswick's most foresighted women, whom we now commemorate in the Creswick Honour Roll.
Learn More About our Society
Family History
Creswick & District
Migration
Honour Roll
Membership

Contact Creswick and District Historical Society today. We would love to hear from you!