COOPER, Mr Thomas
1832 - 1900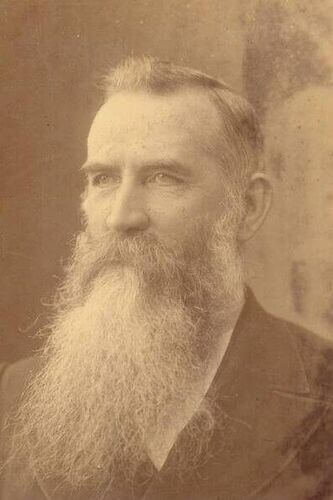 Thomas Cooper was born at Stone, Staffordshire, England, the son of Thomas Cooper, draper, and his wife Sabia (nee Kinnersley). He migrated to Victoria in 1856 and opened Stafford House, a draper shop, at 165 Brunswick Street, Fitzroy.
In 1859 he moved to Kingston, and after a year, to nearby Creswick where he opened a new Stafford House on the corner of Albert and Cambridge Streets. Initially, he was partnered by his brother and then by Charles Walton but these partnerships were soon dissolved and Cooper took control. He later also undertook work as an auctioneer, mining and general agent and arbitrator.
As an active and forceful leader in church work, he was an original trustee, circuit steward, teacher and lay preacher of the Creswick Wesleyan Church. He was a strong advocate for, and leader of the total abstinence societies, prominent in Creswick's early years.
After settling in business Cooper turned to civic affairs. He headed the poll for a seat on the Municipal Council, established in 1858 and in 1862 was elected its Chairman, becoming the first mayor in 1863 of the new Borough of Creswick. He filled this position eleven times, still a record, and worked with vigour to improve the town. He persuaded the government to hand over a reservoir at Dean, with a £3,000 grant to give Creswick a water supply. He was later prominent in providing the town with its imposing hall and council offices. He also did much to set standards and formulate procedures in Council. He resigned in 1884 but was again a member in 1890-93.
In the 1864 Legislative Assembly elections, many influential Creswick citizens persuaded him to nominate but he was unsuccessful until 1877, following which he represented Creswick until 1889 when the Creswick electorate was divided. Cooper decided to stand for the new electorate of Allendale but was defeated by Sir Alexander Peacock. In debates he had spoken on many subjects but more particularly on forests, education and conditions of teachers, mining and prospecting, railways, water supply and municipal affairs. He was chairman of committees in 1880-89.
At Melbourne in 1857 Thomas married Emma Solloway; they had six children however only their younger son survived childhood. Emma was noted for her kindness and charitable work. She died at Hawthorn, Melbourne on 16 February, 1916, aged 84.
Cooper retired at 68 and died soon after at Creswick on 20 October, 1900. He was, without question, the outstanding citizen of Creswick in its formative years. His tall, erect figure with flowing beard and confident walk was well known to all. His courtesy, gentlemanly manners and kindness made him notable. As a public speaker, his humour and eloquence carried his audiences with him. He had a wide experience of men and great capacity for public affairs. He never cherished enmity or showed bitterness to those who opposed him.
His name is perpetuated in Cooper's Reserve, Cooper Street, Cooper's Corner, site of his business in Creswick for many years, and now in this Honour Roll.

Select Bibliography A Sutherland et al, Victoria and its Metropolis, vol. 2 (Melb, 1888); J Smith (ed), The Cyclopedia of Victoria, vol 3 (Melb 1905); Age (Melbourne), 22 Oct 1900; Argus (Melbourne), 19 Feb 1916. More on the resources Author: E J Semmens Print Publication details: EJ Semmens, 'Cooper, Thomas (1832 – 1900)'.
Learn More About our Society
Family History
Creswick & District
Migration
Honour Roll
Membership

Contact Creswick and District Historical Society today. We would love to hear from you!