AINLEY, Maxwell (Max) OAM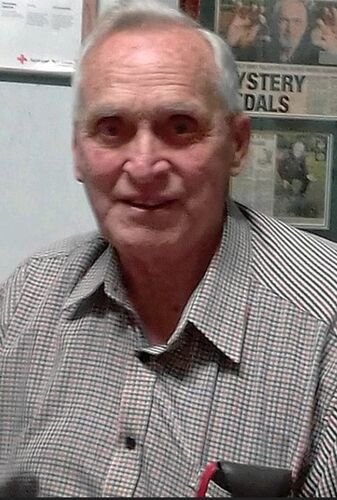 1929 - 2022
For his outstanding and inspired leadership of many organisations and projects that benefitted the Creswick community.
Maxwell Ainley, OAM was born in Dandenong on 29/11/1929. His parents were Alice Louise and Joseph Albert Ainley. His siblings were Joyce, Joseph and Jeffery.
The Ainley family moved to a farm at Brown Hill Ballarat when Max was 4 years old. His love of horses started there.
He attended Brown Hill State School and St. Alypius Catholic School, Ballarat. He worked on the farm and then delivered goods for Lucas Mills and Groceries at Brown Hill.
Max joined the Victorian Police Force in 1952. He served as a policeman for 25 years, beginning in Geelong, then Russell St. Melbourne, followed by 5 years at Morwell before transferring to Ballarat in 1960. He then came to Creswick Police Station in 1972. While on duty he sustained a back injury at a fire at Ballarat North which rendered Max medically unfit for further police service. He retired from the Police Force in 1977 as Senior Constable Ainley.
Max then became a Process Server, farmer and hay producer.
Max was married to Lorraine who supported and assisted him in his endeavours. He was father to Peter and John, and step-father to Carl, Tanya, Craig and Erika. He was a loving grandfather of 12 and great grandfather of 19.
Wherever he lived he served the community, both professionally and voluntarily. He enthusiastically led people and organisations to improve services for the young, elderly and all members of the community.
Whilst serving in Ballarat he was made a Life Governor at Ballarat's Queen Elizabeth Centre for his work on the fundraising committee.
When Max moved to Creswick in 1972 to serve the community as a policeman, he had already started to be an active CFA member at Glen Park. He transferred to Creswick in 1977 and served Creswick as an active fire fighter, as well as Lieutenant, Apparatus Officer, Brigade Secretary and Group Officer. For his CFA service he was awarded a National Medal in 1986, made a Life Member in 1992 and was awarded a 55-year Service Badge in 2008. He retired from the CFA in 2010.
2.
Allendale Motorcycle Club
While a police officer, Max was concerned about a youth problem, which increased with the popularity of riding smaller motorcycles and minibikes. He played a leading role in the establishment and running of the Allendale Motorcycle Club. There were many battles with bureaucracies in the lead up to the club's launch.
Creswick Lions Club
Max joined the Lions Club in 1979 and actively served in many capacities until his health declined. To many people Max was the face of the Lions Club. Each year funds were (and still are) raised to benefit the Creswick Senior Citizens Club, the Creswick Brass Band, St. Vincent's Society, St. Andrews Welfare and Creswick Scout Group, to name but a few of the recipients.
Meals on Wheels
In 1979 the Lions Club, led by Max, together with concerned residents and local organisations, established a local Meals on Wheels program for the elderly of the town. Max and his wife Lorraine initially delivered the meals in his utility and did welfare checks on people he was concerned about. This continued for 21 years. Many times he found people requiring medical and other assistance and arranged for appropriate help.
Senior Citizens Club
Max was leader of the Senior Citizens Club's Welfare Committee and instrumental in the many improvements, including the purchase of a bus, the ongoing management of the Club's rooms and welfare checks.
Other Activities
Max conducted trail rides for children who had ponies and always ended them with a barbecue.
He participated in building the original Lions Park Playground.
He co-ordinated the Lions 'Giant' Garage Sale held each year. He collected and stored the items for sale in his garage during the year. Even when he was unwell he wouldn't stop.
During Max's career he was also made a Life Governor of the Queen Elizabeth Centre, Creswick and Creswick District Hospital.
3.
Annual Spring and Christmas Festivals were much of Max's doing.
Max secured the site for a sausage sizzle at the monthly Creswick Market and he organised the barbecue trailer which is still used for this and other events around Creswick. The Lions Club still continues the sausage sizzle today.
Max was rightfully recognised with the awarding of an Order of Australia Medal in 1991, for his assistance to many people, organisations and community groups over many years. In a Ballarat Courier article (June 10, 1992) he is quoted as saying "I liked doing things for people because they appreciated what I did, and that was the only reward I wanted."
In July 1997 there was an Inaugural Dinner Meeting at Blythewood Grange to form a Committee to establish The Order of Australia, Central Highlands Regional Group. A Committee of nine was elected which included Max Ainley OAM, and he remained on the Committee until 2005.
Max was a loved and loving family man, artist, poet and writer, who inspired and assisted other people to work and care for one another in Creswick.
He died on June 16th, 2022.
Learn More About our Society
Family History
Creswick & District
Migration
Honour Roll
Membership

Contact Creswick and District Historical Society today. We would love to hear from you!